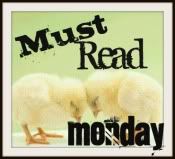 <div align="center"><a href="http://fansoffiction.blogspot.com" title="Fans of Fiction"><img src="http://i1186.photobucket.com/albums/z366/angelalwayz26/chicks3.jpg" alt="Fans of Fiction" style="border:none;" /></a></div>
Thanks for stopping by! I'd be doing a lot more posting if I wasn't so busy with work. Luckily, during the post-game show of the Superbowl, I've found a few minutes to come up with this week's Must Read Monday! (It's a total bummer that the Patriots lost:( )
The goal of the Must Read Monday is to find share your love of great books with others in the hopes that they'll add a new title to their To Be Read list.
Your job is to create intrigue for other hoppers. What makes your book so swoon-worthy? What do you absolutely have to mention so they'll read it?
On your post, you'll make an acrostic puzzle (think of it as an overview/book blurb type of thing).
For specific ways to build your puzzle, click
here
, but pretty much any style of acrostic is welcome.
When you leave comments on other posts, be sure to mention whether you're adding that book to your TBR pile, and what part convinced you to do so.
It's all about powers of persuasion, people:) You might have to think a little, but channel that inner-creative goddess (or god).
Winner of Must Read Monday Week #14:
I've never been tempted to read a zombie book. Her acrostic did it for me! My favorite lines:
"Life has become desperate, outrunning gangs of survivors, escaping polygamists cults
And fearing a bite all for a little boy with the immunity." Love all the parts of the plot she pieced together in both these lines! The polygamists cults part definitely makes me curious...
Remember, you must follow the winner to participate this week!
This week's topic:
(a little twist)
A fictional character you'd want as your best friend
(the acrostic can be the name, but make sure to mention the title of the book in your post)
I definitely was thinking girls, but then this guy popped into my head, and he was such a good friend to the main character, I had to choose him. If things happened to stretch past the BFF level, well, I wouldn't have minded:)
Here's mine, from Jodi Meadows'
Incarnate
:
He sees her as
S
pecial, even though she has no soul
Gentle, caring, an
A
mazing musician,
He saves her, not only fro
M
drowning, but from herself
Here's my
review
! This is a new one you do not want to pass up. It has dragons, mythology, reincarnation...I could go on.
*Next week's topic: (since I'm liking this character thing...) A character you love to hate
(Let's be honest, if an author can write well enough to evoke such strong emotion, he or she is meant to be an author, so we want to read their book!)

Guidelines:
Must become a follower to participate.
Follow the winner from last week to participate.
Grab my button to place in your post.
Make sure you have a backlink in your post to each weekly post I put up, not just to my website.
Where it says your name please include name @ blog name Ex: Jenna @ Fans of Fiction
Your exact post URL is the one that goes in the linky box, not your website.
Don't just hop around; leave comments! We all love reading what others have to say.
Enjoy!