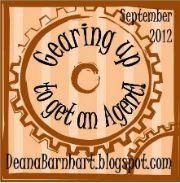 The first week for GUTGAA is upon us! If you an aspiring author who wants a critique partner, a chance to polish your pitch, or a chance to get picked up by an agent, the month of September is Gearing Up to Get an Agent over at DeanaBarnhart.blogspot.com. The Meet and Greet post is first on the agenda, so here's mine!
Mini-Bio:
I'm a fifth year high school English teacher (don't worry, I don't tend to correct people's grammar unless it's a formal occasion). I live in Oklahoma (and no, we don't live in teepees or ride horses to work) and wish the Thunder could have won the NBA finals against the Heat. But life goes on.
I have an awesome husband who coaches lacrosse. My favorite color is purple, and I'm a military brat, proud Air Force daughter, Navy sister, and Navy daughter-in-law. My favorite place to live was Okinawa, Japan. If I'm not writing, I'm reading YA or blogging.
Here are a few more things about me:
I write in my computer room/spare bedroom on the desktop computer. There's nice light from the window there.
-Quick. Go to your writing space, sit down and look to your left. What is the first thing you see?
A mini-fridge that I used to have in college. Now it's our soda fridge:)
Mid-afternoon, sometimes all the way until 3 AM.
-Drink of choice while writing?
Water...wow, maybe I should pick a new drink.
-When writing, do you listen to music or do you need complete silence?
Writing is the only thing I do that doesn't require music to complete. If I'm cleaning, exercising, getting ready in the morning, I HAVE to have music.
-What was your inspiration for your latest manuscript and where did you find it?
My latest completed manuscript came from a dream. My most recent unfinished manuscript was actually inspired by a really cool friend's stories about her hilarious roommates and their shenanigans when trying to make ends meet.
-What's your most valuable writing tip?
Take out extra words. Don't use two words for something you can express with one.
I'd love to hop to your blog and read your answers, so leave me a comment!